Suzie Mork
History
Suzie Mork
Suzie Mork developed an interest in music at a young age as she listened to her mother's phonograph records being played in the living room of the family home in Owatonna.  By age two Suzie was able to play records all by herself, after some instructions from her mother.
At age four, Suzie got her first musical instrument, from the pastor at church… a white, plastic pearl, clara-flute.
At age seven Suzie got her first guitar, a cardboard "Lone Ranger and Tonto" model and she learned how to tune the plastic strings and play "Pipeline" by The Chantels.
In the fourth grade Suzie began taking violin lessons.  Encouraged by the school orchestra teacher, Suzie learned to play two songs on an E Flat Alto Horn and joined a group of horn players for a parade.
At junior high, Suzie was playing the violin in the high school orchestra, where she met Carol Moe who played the Viola.
The arrival of The Beatles in 1964 had a big impact on Suzie and in high school algebra class the girls passed around the group's first 45 so everyone could check out the new band from Liverpool, England and… pick out their favorite Beatle (Paul McCartney was Suzie's favorite Beatle).
Spending time on the violin was taking up a lot of time at school and Suzie's mother asked her if she would like to trade in the violin for a guitar, as she was concerned about Suzie's grades.  Suzie said yes and the two went to Hansen's Music Store and the violin was traded in for a Fender Duo Sonic guitar and a Fender Vibroverb amplifier.  Someone at the music store suggested that she come back to the store and meet some others that wanted to learn how to play the guitar, as members from the local band Little Caesar and the Conspirators (Gary Sorenson, John Putnam, Marv Huntington and Jim Barnholdt) were giving music lessons at the music store.  Going back later for guitar lessons, Suzie was surprised to see Carol Moe there.  Carol had also decided to take up the guitar and leave the orchestra.  After meeting with the band members it was decided that Carol would be the lead singer and play rhythm guitar and Suzie would play lead guitar and sing harmonies in a new band to be formed.  Sue Green was also at the music store, taking drum lessons, and she was added to the new musical group.  Carol informed Suzie and Sue that her cousin Linda Knutson might be interested in playing bass guitar and a four-piece band came together.  The new all-female group was called The Exotics and began playing live in 1965.  The band was eventually booked by David Anthony Productions out of Minneapolis and the group decided to change their name to The 19th Amendment.
After graduating from high school in 1967, Suzie and the band moved from Owatonna to Minneapolis.  The band played in local clubs and was also booked out of town, in various other states and also in Canada.  In the summer of 1970 the band played their final job at the CC Tap in Minneapolis.
In 1971 Suzie took a trip (with Jacquie Balzer) to Colorado and was very impressed with the mountains and the climate.
In 1972 Suzie decided to leave Minnesota and relocate to Aurora, a suburb of Denver, Colorado.  Suzie joined an all female band there called Meek and played with them until the band ended after about six months.
In 1973 joined a Colorado band called Montage, which consisted of a female drummer, Suzie, and three guys.  The band went on the road, but after the singer lost his voice, the band ended after a six month run.
In 1976 Suzie joined Creation which had three female members and three guys.   This band lasted up until through the middle of 1977.
In early 1978 Suzie was back in an all female band called Dreamer, a five piece group that wrote original material.  The band recorded some of their original songs at two studios in Colorado.  The band broke up in 1986 but decided to reunite for a final reunion concert in the same year.
In 1992-1993 Suzie was in a band called Release with three females and one male.  That band lasted about a year as the band members were becoming tired of the bar scene.
In 2008 and 2013 Suzie reunited with former band members from The 19th Amendment and recorded three of her original songs.
In 2012 Suzie began recording a solo CD which was completed in 2013.
UPDATE:
Recordings by Suzie Mork – Dreamer – The 19th Amendment
Dreamer CD: "Let Her Play" 1994-1995 (12 songs)
Dreamer CD: "Reach for the Sky" 1997 (10 songs)
Dreamer CD: "Always a Dreamer" 1998-2002 (11 songs)
The 19th Amendement CD: "So Long Ago" 2008 (1 song)
Dreamer CD: "Reflections of a Dreamer" 2010 (8 songs)
The 19th Amendment CD "Amended" 2013 (2 songs)
Suzie Mork CD: "Wearin' the Blues" 2013 (10 songs)
Suzie Mork CD: "Rock The Night" 2018 (9 songs)
Suzie Mork CD: "Seven" 2021 (10 Songs)
In September, 2002, Suzie Mork and Sherry Parrish (bass player with Dreamer) decided to visit a friend, Jane Jaeger, who lives in Montrose, Colorado, which is fairly close to Crawford, Colorado, home of Joe Cocker and the Mad Dog Café, run by Joe and his wife Pam.  Suzie, Sherry, and Jane, went to Crawford and stopped by the Mad Dog Café and met Joe and Pam Cocker.  The following is an email interview with Suzie regarding the meeting with Joe Cocker, which took place one week following the death of Cocker on December 22, 2014.  Joe Cocker was 70 years old.
Tom: How long did you chat with Joe Cocker?
Suzie: We talked for about 10 to 15 minutes.
Tom: What did you talk about?
Suzie: He asked me if I was a Beatles Fan because I had a Rubber Soul shirt on and I said yes, of course.  We also talked about his up and coming Australian tour that was starting in October.
Tom: Did he have a British accent?
Suzie: Maybe slightly… but not real noticeable.
Tom: How would you describe his personality?
Suzie: Personable, genuine, kind, laid back, friendly, nice, and pleasant.
Tom: Did you meet his wife, Pam?
Suzie: Yes, she took the pictures.  She said she would take more than one because you can never take just one.
Tom: Did you see his house?
Suzie: No, that is too far away from the café.
Tom: What was the Mad Dog Café like?
Suzie: A typical mountain town café… kind of rustic with ceiling fans and tables and chairs.
Tom: Did you eat there?
Suzie: Yes, but none of us remember what we ordered!
Tom: What stood out most about him to you when you were there?
Suzie: He was very friendly and he went to different tables to meet with the customers.
Tom: What do you recall now when you think back on meeting him?
Suzie: Sherry remembered that he wanted to put his arms around us for the picture and I remember that he drove a green Jaguar that was in the parking lot.
Tom: Why do you think he wound up in Crawford, Colorado?  It's a very small town.
Suzie: I think he liked the mountains and Crawford was quiet and off the beaten path.
Tom: Did you ever see him perform live?
Suzie:  Sherry saw Joe Cocker twice in Colorado.  Once at Fiddler's Green with Cyndi Lauper and the other time she couldn't remember.  I tried to get in to see him at The Depot in downtown Minneapolis but couldn't get in.  I do remember the first time I saw him on TV.  I really didn't know what to make of his performance antics at the time.
Tom: Do you have a favorite Joe Cocker song?
Suzie: "I Shall be Released" and "With a little Help From My Friends."  Sherry picked "Cry Me a River" and "You Can Leave Your Hat On" and for Jane: "With a Little Help From My Friends" and "Up Where We Belong."
Tom: How great that you and your two friends got to meet Joe Cocker.
Suzie: We will miss Joe!
  Photos
  CDs
Bluer  Than  Blue  –  Time  =  5:34
Best  Friend  –  Time  =  5:03
Keep  On  Dreamin'  –  Time  =  5:42
I  Said  Goodbye  –  Time  =  4:36
How  Could  You  Do  That  –  Time  =  4:06
Premonition  –  Time  =  5:10
Big  Silver  Bird  –  Time  =  5:19
Don't  Leave  a  Stone  Unturned  –  Time  =  6:57
Until  The  Light  Bulb  Burns  Out  –  Time  =  3:36
As  A  Little  Child  –  Time  =  5:36
End  Of  The  Line  –  Time  =  3:58
Let  Her  Play  Rock  &  Roll  –  Time  =  5:36
Reach  For  The  Sky  CD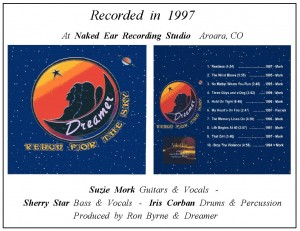 Restless  –  Time  =  4:54
The  Wind  Blows  –  Time  =  5:56
No  Matter  Where  You  Run  –  Time  =  3:46
Three  Guys  and  a  Dog  –  Time  =  3:02
Hold  On  Tight  –  Time  =  6:46
My  Hearts  On  Fire  –  Time  =  2:47
The  Memory  Lives  On  –  Time  =  4:59
Life  Begins  at  40  –  Time  =  2:57
That  Girl  –  Time  =  3:48
Stop  The  Violence  –  Time  =  4:58
Always  A  Dreamer  CD
The  Rain  –  Time  =  4:15
The  Dream  –  Time  =  6:15
Dog  Gone  Blues  –  Time  =  5:49
Gotta  Get  Away  –  Time  =  5:03
Drifting  Apart  –  Time  =  6:42
Searchin'  For  The  Sun  –  Time  =  5:02
Stop  The  Madness  –  Time  =  4:26
Rich  Without  Reachin'  –  Time  =  5:30
It's  ok  To  Cry  –  Time  =  5:47
Angry  Soul  –  Time  =  5:14
Sea  Gull  –  Time  =  5:06
Reflections  Of  A  Dreamer  CD
Wearin'  The  Blues  CD
Out On The Road –

Time = 3:05
Ain't Got No Time –
Time = 1:03
You Never Knew –
Time = 2:39
This Way –
Time = 1:30
Wearin' The Blues –
Time = 2:50
I Just Can't Understand You –
Time = 1:03
Walkin' With The Blues –
Time = 1:06
When You Wake Up From a Dream –
Time = 1:05
Save The Soldiers –
Time = 1:17
I Live In The Blues –
Time = 1:23
Rock  The Night  CD
Ageless –
Time – = 5:35
Time  to  Go –
Time = 4:05
The  Story  – 
Time  =  4:35
With  You,  with  Me  – 
Time  =  7:03
Move  On  – 
Time  =  5:04
Busy  Boy  – 
Time  =  5:49
Suicide  – 
Time  =  5:13
Only  in  Love  – 
Time  =  5:08
Rock  The  Night  – 
Time  =  5:16
Now  Playing # Seven  CD
Insanity On  The  Freeway  – 

Time  =  5:38
Like  This  – 

Time  =  5:28
Playing  The  Game  – 
Time  =  4:15
We  All  Walk  On  – 
Time  =  4:33
Digital  Mess  – 
Time  =  4:22
I  Don't  Like  It  – 
Time  =  5:17
Love  Will  Shine  – 
Time  =  5:39
The  Diary  – 
Time  =  4:18
Stuck  In  Seclusion  – 
Time  =  4:19
The  Message  – 
Time  =  5:24
Bandtree
____________________________________________________
Suzie Mork          Lead  Guitar  /  Lead  Vocals      1964  to  Current
Exotics
19th Amendment
Meek (CO)
Creation (CO)
Dreamer (CO)
Release (CO)
Solo Artist (CO)
_____________________________________________________
Where are they now?
Suzie lives in Colorado and continues to write and record songs at her home studio known as Studio S.
Interview
Interview  Part  ONE  –  Time  =  16:14
Interview  Part  TWO  –  Time  =  13:09