Crow (Featuring Dave Wagner)
Heartstealer – From the Crow Live CD
Crow — Generation Two Featuring Dave Wagner
(1980-1982)
History
November 1979 : David Anthony (booking agent/promoter) had started talking with Dave Wagner (real name, Dave Waggoner) about the possibilities of getting Crow back on the road performing and recording.  He finally convinced Dave Wagner to give Crow another try.  The original line up of musicians was not available so the next alternative was to put together a group of solid musicians to back Dave up calling it Crow featuring Dave Wagner.
May 1980: David Anthony contacted Denny Johnson to put together a new back up group for Dave Wagner. The band line up became Robby Belleville on drums, John Richardson on lead guitar and vocals, Lonnie Knight on lead guitar and vocals, Denny Johnson on bass guitar and vocals.  Rehearsals and song writing began!
June-July 1980: Dave Marden was brought in on keyboards, sax, flute and vocals. Late June, Lonnie Knight left the band and was replaced by Jeff Christensen (Boday) on lead guitar and vocals.
September 1980: Jobs were coming in and recording was moving along.
February 1981: Because performing on stage gave the songs more excitement and a better feel than sitting in a recording studio the band decided to record Crow Live. Due to circumstances beyond their control this album was never released. Crow continued to tour throughout the Midwest including a seven state tour with April Wine (from Canada).
April 1981: Dave Marden leaves the band and Crow goes 5 piece
October 1981: Denny Johnson is replaced by Darryl Kolledge on Bass Guitar
December 1981: Final show was New Years Eve. Each band member decided to go their separate ways.
October 1982: Crow was encouraged to come up with an album and be featured at a K101 radio concert at the old Met Center in Bloomington Minnesota.  Dave Anthony, the band's manager put up the money to finish the On The Run album that the band had worked on in 1981.  At this time Jeff Christensen was off touring with another band and Robby Belleville was battling cancer so the band had to replace them with Abe Booker on guitar, Mark Fisher on drums and Jim Potter on keyboards.  The show went well but did not keep the band together.
Photos  –  (
Click on Photo for Full Screen – Arrow to Next

)
K-101 Show at Minneapolis Auditorium-  October ??,  1980
Thumpers  in  Coon  Rapids,  MN
Opening  for  April  Wine  Midwest  Tour — Duluth, MN  May  17, 1981
Valley  Fair  Show in  Chaska,  MN  –  July  5,  1981
K-101  Show at Met Center  –  October  13,  1982
K-101  Show at Met Center – October  13,  1982 – BackStage  Photos
Recordings
On The Run  vinyl LP
Someone b/w All For The Love of Money (yellow vinyl 7-inch single)
Someone – From the "On The Run" CD
All For The Love of Money – From the "On The Run" CD
Listen
On The Run – From the "On The Run" CD
I Wanna Heart – From the "On The Run" CD
Evil Woman – From the Crow Live CD
Heartstealer – From the Crow Live CD
Laughin'  About- From the Crow Live CD
Oh  Woman – From the Crow Live CD
Rockit  To  The  Moon – From the Crow Live CD
Don't  Throw  It  Away – From the Crow Live CD
Someone – From the Crow Live CD
Set  The  Fire  Free – From the Crow Live CD
All  For  The  Love  of  Money – From the Crow Live CD
Freedom  Ryder – From the Crow Live CD
Take  Back  The  Night – From the Crow Live CD
It's  Really  Love – From the Crow Live CD
User – From the Crow Live CD
Crossfire – From the Crow Live CD
Cottage  Cheese   –   Gone,  Gone,  Gone – From the Crow Live CD
Movin'  To  The  Music – From the Crow Live CD
Surrender – From Yellow Sub One
On  The  Run  –  From  Yellow  Sub  One
Surrender – from Yellow Sub ONE CD Peak 16005
The Run – from Yellow Sub ONE CD Peak 1600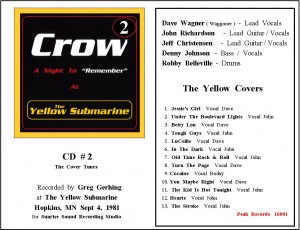 Jessie's Girl – from The Yellow Covers CD
Under  The  Boulevard  Lights – from The Yellow Covers CD
Betty  Lou – from The Yellow Covers CD
You  Maybe  Right – from The Yellow Covers CD
This  Interview  was  done   at  KDWB  Radio  Station  by  Jimmy  Nervous  and  has  some  NOISE  on  it  for  about  5  Minutes  then  it  come's  around  ( Sorry )
Part ONE  –  Time  =  17:43
Part  TWO – Time = 16:39