Keith Follese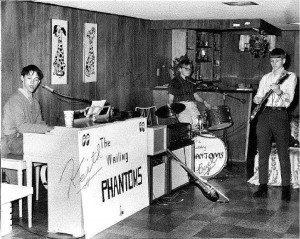 History
The Wailing Phantoms
The first local band that Keith played in was The Wailing Phantoms that formed in The lineup was: Keith Follese on keyboards and lead vocals; Louie Lenz on rhythm guitar; Scott Jeffy on bass guitar; and Jerry Lenz on drums.  Louie and Scott attended Robbinsdale High School and Keith and Jerry were in Carl Sandburg Junior High School.  After school the band practiced at the Lenz home or the Follese home, both in Golden Valley. The band played Top-40 cover songs plus original songs written by Keith and had a regular job at the Robbinsdale Teen Center on Friday and Saturday nights.
The Inchanters
In January, 1965 The Wailing Phantoms had a name change and became The Inchanters. In the summer of 1965 the band played at a new teen center at Breezy Point, a lakeside resort in Northern Minnesota. The band also played for school dances. In the fall of 1966 Keith left the band.
The Youngsters
Following The Inchanters, Keith was eager to play in a band that featured vocal harmonies and played Beatle songs, in addition to his own songs.  Keith knew that Robbinsdale musicians Gary Lopac and Tom Lang liked playing Beatles songs and the band they had played in, the Lyncx, had come to an end.  Keith contacted former Lyncx member Randy Johnson, who brought Gary and Tom over to meet Keith.  The three musicians were impressed after hearing Keith play "House of the Rising Sun" on a Hammond organ and a new band formed with no name.  The lineup was Keith Follese on keyboards, guitar and vocals; Randy Johnson on guitar and vocals; Gary Lopac on bass guitar and vocals; and Tom Lang on drums.  Keith was 15 years old and in the 9th grade.  Vocals and vocal harmonies became the trademark feature of the group.  Practice sessions alternated between the Lopac residence and the Follese residence.
In early 1967, the band played an audition for Marsh Edelstein of Marsh Productions. Marsh liked the band, signed them to his agency and gave them a new name… The Youngsters.
Starting on April 1, 1967, Marsh Productions began booking the band around the Twin Cities and out of town.  Marsh Productions kept the band busy playing live for the next three years and three months.
In 1967 the band recorded a 45 with two original songs, both written by Keith: "(You've Been) Tellin' Lies" and "You Said Good-by."  Keith played keyboards and guitar and sang lead on both songs.
In early 1969, the band recorded a second 45, again both songs are written by Keith: "Candy Apple" backed with "I Don't Stand a Chance."
On July 31, 1970, the band played their final job at White Bear Lake and The Youngsters came to an end.
Jeremy
The next local band Keith played in was Jeremy, along with John Crave and Mike Kryduba.  After John Crave left the band, Gary Lopac joined on bass guitar.
Fresno
Following Jeremy, Keith played in Fresno, along with Marc Partridge on guitar, Dick Rogers on bass guitar and Bill Simpson on drums.  The band had a few personnel changes.
Both Jeremy and Fresno played Keith's original songs.
From Minneapolis to Los Angeles
In 1973,  Keith decided to relocate to Los Angeles and pursue his dream of being a songwriter.  After renting an apartment in Sherman Oaks, Keith found work selling air conditioning during the day and delivering pizzas on weekends.  Eventually, Keith began to hang out at clubs, meet people in the music business and got some jobs playing guitar and singing his songs.
In 1977 some friends who worked for Ariola Records invited Keith to attend a Dodgers baseball game.  It was at this game that Keith met Adrienne Anger from the Bay area, a guitar player and singer.  That very night Keith had a job playing at a club on Ventura Boulevard and Adrienne sat in with him and sang harmonies on four songs.  Highly impressed with Adrienne, Keith penned a song about her called "One in a Million."
Back in Minneapolis, a friend of Keith's, Bill Isaacs, was working at K-Tel Records with Jerry Lenz (former drummer of the Wailing Phantoms) and decided to move to Los Angeles.  He had been introduced to Keith by Jerry and was a fan of his songs.  Bill set up an audition for Keith with Billy Michelle at Arista Publishing.  Although quite sick on the day of the audition, Keith toughed it out and performed five of his songs and was signed as a writer to Arista.
At this point in time, Keith and Adrienne began co-writing songs. In 1979, Keith and Adrienne became husband and wife.
In 1983, with a connection through Stevie Nicks of Fleetwood Mac, Keith recorded an album for Gold Mountain/A & M Records, a joint venture with Danny Goldman and A & M Records.  Michael Lloyd produced the recording for Mike Curb Productions. After the album was recorded, a conflict arose between Danny Goldman and A & M over what single to release from the album.  As a result, the album was shelved for a year and a half and never released in the United States.  Finally, in 1985, the album was released in Japan on the Sony label.
From Los Angeles to Nashville
With the birth of his first son, Ryan, Keith decided to focus on getting a job as a staff writer for a publishing company.  A friend of Bill Issacs, Robert John, suggested to Keith and Adrienne that they consider relocating to Nashville.  Robert sent Keith a number of country records to listen to, among them albums by Restless Heart and the Judds. Keith heard the connection between pop and country music and decided the time was right to make the move.
Arriving in Nashville in 1988, Keith made a connection with two influential people in the music business, Max and Patsie Barnes.  Keith states, "They were down to earth people. They endeared me to the place."  Soon, Keith had a job as staff writer and was making $1,000 a month.
One of Keith's first groups to work with in Nashville was Plamino Road.  Keith wrote and produced their debut album which had a single called "Why Baby Why"on the country charts.
One day in 1992, Keith got a hold of Max Barnes' son, Max T. Barnes, a guitar player and writer and started to work on a new song.  The two came up with a tune called "Before You Kill Us All" …  a whimsical story of a household falling apart with the departure of the lady of the house.  Randy Travis recorded the song for Warner Brothers Records and the song went to number one on the US and Canadian Country charts. Five years and three months after arriving in Nashville, Keith had his first hit song.
The following year, 1995, Keith co-wrote a song with Del Gray and Thom McHugh called "Life Goes On" recorded by Little Texas which went to number two on the US Country charts and number four on the Canadian Country charts.
In 1999, Tim McGraw recorded "Something Like That" co-written by Keith and Rick Ferrell.  The song was released on an album ("A Place in the Sun") and after radio began playing the song, the label released it as a single on July 3, 1999.  The song spent five weeks at number one on the US Country charts and also hit number one on the Canadian Country charts.  The song "crossed over" to the Billboard Hot 100 and went to number twenty-eight.  According to Neilsen BBS the song was the most played radio song for any music genre in the decade of the 2000's with just under 500,000 spins.
An interesting situation occurred on July 26, 1999, the date RCA released a song called "I Love You" by Martina McBride.  The song was co-written by Keith, his wife Adrienne and Tammy Hyler.  The song went up to number two on the US Country charts, right behind "Something Like That" and eventually made it to the number one spot and stayed there for five weeks.  The song was included in soundtrack for the movie "Pretty Woman" and also charted in Canada, Italy and Australia.
In October, 1999, Lonestar released "Smile" a song co-written by Keith and Chris Lindsey, which went to number one on the US and Canadian Country charts and "crossed over" to the Billboard Hot 100 where it went to number thirty-nine.  The song also charted in the UK.
In 2000, Faith Hill recorded "The Way You Love Me" co-written by Keith and Michael Delaney. In May of 2000, the song spent four weeks at number one on the US and Canadian Country charts.  In addition to charting in the US and Canada the song charted in the UK, Switzerland, Sweden, New Zealand, Netherlands, France, Belgium and Australia. Keith was Grammy-nominated for the song the same year. Also in 2000, Keith was named Billboard magazine's Writer of the Year. In 2001, Keith was named ASCAP Writer of the Year and "The Way You Love Me" was named ASCAP Song of the Year.
In 2003 Keith and Jim Brickman co-wrote "Peace (Where the Heart Is)" which became a top ten hit on the Adult Contemporary charts.
In 2008, Keith had two of his songs on the debut album (self-titled) by Lady Antebellum, including the hit "Looking for a Good Time" co-written by Keith, Hillary Scott, Charles Kelley and Dave Haywood.  The song went to number eleven on the US Country charts and "crossed over" to the Billboard Hot 100 and hit number sixty-seven.
Midas Records
Keith had his own record company for a time, Midas Records.  In June, 2007 Keith scored a hit on Midas Records with "A Good Man" by Emerson Drive.  The song was co-written by Keith, Adrienne and Victoria Shaw.  The song went to number ten on the US Country charts.  A follow up single from the album called "Moments" went to number one on the country charts.
The Next Generation
In 2005 Keith was instrumental in getting a new band signed to Jive Records, Hot Chelle Rae.  In the band are his two boys, Ryan on lead vocals and rhythm guitar and Jamie on drums.  Both Keith and Adrienne have co-written songs for the pop band (named New Artist of the Year in 2011 at the American Music Awards).
The word "retirement" does not seem to be part of Keith's vocabulary and Keith is still active in the music business, writing songs and developing and producing new artists. Over recent years, Keith has worked with a diverse group of artists including Katy Perry, John Oates, Timothy Schmit, Jamie Johnson and Jo Dee Messina.  A recent project was co-producing the Leiber/Stoller Legend record with Jed Leiber, son of Jerry Leiber.
Keith makes an annual visit to Minnesota to keep in touch with family and friends.
Photos  
(Click a photo to see it full-screen, then click the arrows to see the next one.)
photos go here
Recordings
  Bandtree
The Wailing Phantoms
The Inchanters
The Youngsters
Jeremy
Fresno
Solo Artist
Where are they now?
Keith is living in Nashville and is active in songwriting, producing and new artist development.
Interview
Interview PART ONE
Interview PART TWO
Interview PART THREE