David Anthony (Wachter)
A fan becomes a power player in the local music business
History
David Anthony Wachter was a teenager attending Columbia Heights on September 9, 1956, the night he watched Elvis Presley make his controversial debut on the Ed Sullivan Show.  David was already well aware of Elvis Presley and had purchased his records through mail order.  While most teenagers were happy to have one radio in their possession, David had five radios in his bedroom and was able to pick up radio programs (on Sunday evenings) from 50,000 watt stations located in Arkansas, Oklahoma, Florida, Massachusetts, Pennsylvania and Chicago.  While listening to KAAY out of Little Rock, Arkansas,  David heard ads for Stan's Record Shop located in Shreveport, Louisiana and began placing orders.  The record store offered ten 45's for $4.99, postage included.  By the time local radio stations WDGY and KDWB began to broadcast rock music in 1958, David had already been exposed to a wide variety of music styles through the various radio stations from other states he had picked up on his radios.  David also purchased records at Don Leary's record store in Minneapolis.
David's love of music and his interest in records resulted in his first job in the music business, playing records for "sock hops" at local schools, KC Halls and VFW's.  His first job was held in the gymnasium at the Immaculate Conception grade school in Northeast Minneapolis and brought in 700 young people looking to dance to their favorite songs.  The next step was a logical progression: rather than play records, David was asked if he could get bands to play live for the dances.
In 1957, David formed his first business: DA Enterprises.  At this time he only knew one loose group of musicians that he could book.  Still in high school, David was now an official booking agent and the owner of his own booking company.
While visiting club owners in the late 1950's and early 1960's David made a discovery: not all of the club owners were happy with the new rock'n'roll music.  Many of the ballroom and club owners still wanted big bands, polka bands and other non-rock'n'roll groups.
David had been out to the Crystal Coliseum and Eagle Lake Resort (Maple Grove) and other local venues that featured the early rock'n'roll pioneers in the twin cities including: The Big M's, The Corvets and Mike Waggoner and the Bops.  One of the first local rock bands that David became involved with was The Trashmen and David was present in the basement recording studio at George Garrett's Nic'O'Lake Records when Bob Reed first joined the band on bass guitar.
David's time working with The Trashmen was cut short in April, 1962, when he was called into the military service for a two year time period.  Shortly after The Trashmen hit the national charts with "Surfin'Bird" in 1963, David heard the record for the first time… in South Korea.  One night, while he was on duty, he received a phone call from a DJ who was working on the Armed Services Radio.  The DJ knew that David was from Minneapolis and had been involved in the music business and wanted to find out if had heard the new song by The Trashmen, a band from Minnesota.  David asked the caller to play him the song over the phone, which he did, hearing the hit song for the first time.
Arriving back in Minnesota in 1964 following his two years in the service, David discovered "the kids had long hair" and the local music scene was expanding at a rapid rate, with new bands, new music and new places to play.  The "teen club" era had started with the opening of Mister Lucky's in Minneapolis and Bobby's in Mendota Heights.  By Christmas of 1964, David had a "one and a half room" office located at 4150 Central Avenue NE in Columbia Heights, with one office assistant and one phone line.  With only one real band he had to book he sent out a mailer showing four bands, the real band and three "fake" bands.  If a call came in for one of "fake" bands, he informed the caller that they were booked for that night but he could get them another band from his roster… the real band.
As more bands signed on with David Anthony Productions and more clubs called in looking for bands, the business began to grow at a fast pace and soon David was driving a 1962 Thunderbird (sunburst red) which had 156,000 miles on it two years later in 1966, due to the extensive amount of driving required by the job.  With strong competition from booking agents focusing on the twin cities area, David expanded his business base from the twin cities to out state Minnesota, west to North and South Dakota, east to Wisconsin and south to Iowa.  A number of Minnesota bands wound up playing jobs north of the border in Canada.
At the peak of the business in the 1967, David had six employees, thirty-five bands on the road (thirty-four of them working two to three days a week) and on one day he booked 146 jobs.  David co-signed on loans for twenty-one bands, including The Marauders, who purchased an "Expansion" bus in Chicago with seating for 47 people.  David flew to Chicago to co-sign for the loan and drove the bus to Minnesota.  The "David Anthony" band list at this time included: the Cornerstones; Canoise; 19th Amendment; He-Too's; Illusions; Ivymen; Jokers Wild; Jonas and the Wailers; Korners of Time; Marauders; More-Tishans; New Ones; Rave-On's; System; Underbeats; the Titans; and the Churchkeys.
In 1968 David decided to sell his booking agency, however, the sale involved a contract to be paid to David over time and the company eventually went back to David.
During the late 1960's David formed a partnership with Mike Jann and Tony Andreason and the three started recording bands for three different record labels: Metrobeat, Peak and West Wind.  Bands that had records out on Metrobeat included: the Trashmen; Underbeats; Jokers Wild; and South 40.  The Peak label had records out by: the More-Tishans; Jokers Wild; Churchkeys and others.  The West Wind label featured country singers including Larry LaPole; Johnny Dot; and Marilyn Sellars, among others.
In January, 1969, David began to rent the third floor of the Labor Temple in Minneapolis (117 SE 4th Street) and started holding concerts on Sunday nights, featuring national (and international bands).  The first concert was held on February 2, 1969 and featured The Grateful Dead with local band Blackwood Apology opening up with their rock opera called "House of Leather." The third floor was packed and people were turned away at the door due to the lack of room.  Community News, a local company, began doing the light shows for the concerts, using home made "movie screens" draped across the back of the stage.  The bands that played the Sunday night concerts included: Procol Harum; Buddy Miles Express; Rotary Connection; Jethro Tull; Pacific Gas and Electric; Savoy Brown; Spirit; Mother Earth; Canned Heat; Deep Purple; Jeff Beck; Sweetwater; Serfs; Illinois Speed Press; Albert King; Aorta; Muddy Waters; Mojo Buford; Dr. John; John Lee Hooker; MC-5; Cottonwood; Country Joe and the Fish; the Byrds; Rugby's; the Allman Brothers; John Hammond; Youngbloods; Small Faces with Rod Stewart; Alice Cooper; Golden Earring; Fifth Avenue Band; Fever Tree; Grand Funk Railroad; Ten Years After; Johnny (and Edgar) Winter; Tony William's Lifetime with Jack Bruce; and Buffy Sainte Marie.  Local bands would often open up for the headliners including: Blackwood Apology; Jokers Wild; Spider John Koerner and Willy Murphy; Zarathustra; Skin Trade; Stillroven; Ken Schaeffer; Daybreak; Flash Tuesday; Triad; the Litter; and Thundertree.
David originally planned on the third floor of the building holding 3,000 people for the Sunday night concerts, however, the local fire department required folding chairs to be used and a maximum capacity of 1,250 people, due to safety concerns. The reduced crowd size and other issues with the City of Minneapolis became a financial burden to David and the concerts at the Labor Temple came to an end in the middle of 1970.  David had an interest in purchasing the building (as it was listed for sale) and turning it into a music center with a recording studio, however, there were too many obstacles in the way to allow him to pursue this plan.
David's next job was booking bands at Spirit Mountain in Duluth.  In 1974 he entered the bar business as the manager of The Tamarac in Long Lake, Minnesota.  David ran the bar (with live bands) up through the latter part of 1978.
In October, 1978 David decided to leave the music business behind and moved to Wisconsin where he became involved with a number of non-music related businesses.
Starting his career as a teenager at Columbia Heights High School in the 1950's, playing records at sock hops and moving on to running his own booking agency, promoting local and national bands, and recording bands for three record labels, David Anthony Wachter had a major impact on the local music business (and throughout the upper five state area) for over two decades.
Update
In September, 2010, David Anthony Wachter was inducted in to the Mid-America Music Hall of Fame at a concert-induction ceremony held at the Sheraton Bloomington. 
Photos 

( Click for full screen – Arrow to next )
David Anthony Productions / David Anthony Artists
 David Anthony Presents
Where are they now?
David  is living  in  Wisconsin  and enjoying  life.
Interview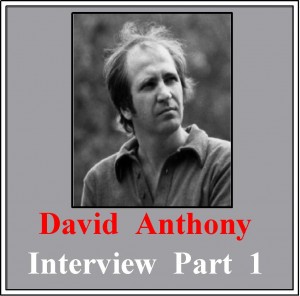 Listen…….