Lightning / White Lightning
From a 3-piece hard rock band to a 5-piece concert band…  popular at outdoor festivals, known for their rock version of the "William Tell Overture"
History
Lightning
(and White Lightning)
1968 – 1973
August, 1968:  Guitar player Tom "Zippy" Caplan leaves The Litter after the band is filmed playing live at the Electric Theatre in Chicago for the movie "Medium Cool" and gets together with bass player Woody Woodrich.  The two are inspired by the band Cream and decide to put together a new group…  a power trio to be called White Lightning.  Gar Johnson joins the band on drums and vocals and the three musicians begin to rehearse.  After a few weeks Gar decides to leave the group and Woody contacts Litter roadie, Ronn Roberts in Chicago and informs him the group is looking for a drummer.  Ronn suggests Mickey Stanhope, a drummer and vocalist from Joliet, Illinois, he had come across playing at a local Chicago venue.  Mickey comes to Minneapolis and joins the band.
Fall, 1968:  With the new lineup of Zippy, Woody and Mickey, the group works on learning songs from Cream, Quicksilver Messenger Service, and The Doors… plus a small number of original songs.
Zippy decides to have the band record a 45 before playing any jobs and contacts former Litter producer and songwriter Warren Kendrick to see if he can come up with an original song for the band to record.  Warren meets with the band and plays them a song he wrote (on the piano) called "Paupers and Poets" (which Zippy changes to "Of  Paupers and Poets" just before the record is released).  The band feels the song is "too poppy" for them so they give it a hard rock makeover and enter Uniiversal Audio in Minneapolis to record the Kendrick penned song plus a B-side.  The flipside is an original song called "William" written by Zippy, Woody and Bill Struthers (a friend of Woody's).  Litter Roadie, Bill Pluta, is at the recording session and adds a loud scream at the beginning of the guitar solo which does not go over well with Warren and is immediately removed from the song.
Late, 1968:  Warren Kendrick releases the 45 on his Hexagon label and the band begins to promote the record around town and gets some local airplay.
Early, 1969:  The White Lightning 45 reaches the top ten on local radio station KDWB for the week of February 10.  No one is aware that the recording is by a local band.  Zippy decides the time is right for the band to play its first live job and books the band at the New City Opera House.  The band has five double stacked Marshall amplifiers on stage, draped over with American flags.  Zippy comes up with a "surprise" song to end the show…a rock version of the "William Tell Overture" (from an opera written by Italian composer Gioachino Rossini that debuted in Paris in 1829 and became the famous Lone Ranger theme song on radio and TV in the 1940's and 50's).  The band goes over well on their debut live performance and people in the local music business take notice.
Numerous local booking agents begin booking jobs for the band including Marsh Edelstein, Bill Diehl and Peter May.
Ira Heilicher (of  Heilicher Brothers) takes an in interest in the band after he discovers the group's 45 is on the local radio charts.  Ira shops the 45 for a major label deal and obtains a deal with Atco Records to release the 45 on a national basis.  The Atco 45 has a slightly different version of "William" with the original ending cut off, which is the final guitar chord played by Zippy and recorded backwards.
Mid, 1969:  Ronn Roberts begins writing original songs with the band members and joins them on stage playing rhythm and second lead guitar when the band performs the original songs.  The band continues to play around town and also play in other upper Midwest states, mainly Iowa and Wisconsin.  In addition, Zippy is able to book the band in Chicago at two of the clubs where The Litter was popular:  the Electric Theater and the Aragon Ballroom.
The group begins recording original songs at Warren Kendrick's recording studio, AudioCity, on East Lake Street in Minneapolis and also at Herb Pilhoffer's original Sound 80 recording studio in Edina.
Mickey Stanhope develops a health problem and takes time off from the band to recuperate.  When he returns to the group he informs them he is tired of playing drums and singing and wants to switch to front-man status doing vocals only.  Mickey suggests a new drummer to take over his spot, Bernie Pershey, who is also from Joliet, Illinois.  Ronn is now playing with the band full time.  With a new band lineup and a new focus on original songs, the group decides to change names and White Lightning becomes Lightning.  The new five-piece lineup is: Mickey Stanhope on lead vocals; Zippy Caplan on lead guitar; Ronn Roberts on rhythm and second lead guitar and backup vocals; Woody Woodrich on bass guitar and backup vocals; and Bernie Pershey on drums.
Late, 1969:  After playing at The Prison in Burnsville a number of times, Pat Rains, the club's owner/manager, offers to manage the band and they accept the offer.  Pat Rains and Ira Heilicher encourage the band to record an album of original songs.  A deal is cut with PIP Records (owned by Ira) which is a subsidiary of Pickwick International, Inc.
Early, 1970:  The band enters the newly built and updated Sound 80 recording studio at their new location in Southeast Minneapolis and records an album worth of original songs. Pat, Ira and the band produce the album.  The sessions are engineered by Tom Jung.  The album is released, along with a 45 of two songs from the album (both edited for airplay), and one of the first cassettes to be released nationwide.  Both sides of the 45 "Freedom (Is Life With Living)" and "Hideaway" get airplay on local radio station KQRS, as does "Madame Sunrise" from the album. The band is disappointed that the album does not contain a sketch of the band members and a lyric sheet for the songs that were both promised by the label to be included as inserts inside the album jacket. Also, there are errors on the record label in the songwriting credits.  A second and third pressing of the album fails to correct all these problems.
1970:  Lightning plays numerous outdoor concerts throughout the upper Midwest including: Galena Rock Festival in Iowa; Stevens Point in Wisconsin; Grant Park in Chicago; and Parade Stadium in Minneapolis among many others.  At a number of concerts the band is billed above REO Speedwagon.  The Lightning album sells roughly 25,000 copies nationwide.
1971:  The band members begin to have differences in musical direction.  Pat Rains, Zippy Caplan and Mickey Stanhope want to relocate the group to Los Angeles in hopes of securing a new record deal with a different label but Ronn decides to leave the band to join a new local band called Cisco Grove.  Woody and Bernie decide to go in separate directions.  Pat, Zippy and Mickey go to Los Angeles, where they have no luck in finding a new record label for the group and end up working on other musical projects.  Pat becomes interested in managing singer Al Jarreau.  Zippy and Mickey do studio work for various artists, but eventually return to Minneapolis, while Pat stays in Los Angeles and opens a management company featuring Al Jarreau.
1972:  Bill Pluta decides to book Lightning on a reunion tour in Minnesota, Iowa and Wisconsin, through his newly formed booking agency.  With a core lineup of Mickey Stanhope on lead vocals; Zippy Caplan on lead guitar, Ronn Roberts (taking a leave from Cisco Grove to play with the group) on rhythm and second lead guitar; and Dan Bernice on drums, the band plays live concerts into the following year.
1973:  The band members go in different directions and Lightning comes to an end.
1975:  Zippy Caplan gets the original band members together to record his arrangement of the "William Tell Overture," the show-stopper closing song of their live performances.  Zippy hires David Rivkin to engineer the session at Audio-Tech studios in North Minneapolis.  Joining Zippy (lead guitar), Woody (bass guitar), Ronn (rhythm guitar and second lead guitar) and Mickey (timpani) for the recording of "William Tell" s are three horn players: Gus Gustafson; Rick O'Dell; and Eddie Shaw.  Jerry Magee is contacted by Zippy to play keyboards.  In addition to "William Tell," a second song is recorded called "Fantasy Days" written by Zippy, Mickey and Woody.  After the two songs are recorded and mixed, Zippy has an acetate made of the session and takes it to Los Angeles in hopes of selling it to a major label and/or securing a new record deal for the band.  Zippy discovers the major labels are mainly interested in disco music at this time period and he is advised by record company executives to see if he could record a disco version of "William Tell" and bring it back for another listen.  Zippy has no interest in pursuing this direction with the song and returns to Minneapolis.  With no record deal, the band does not get back together.
UPDATE:
In 1996, an album was released called "White Lightning – Under the Screaming Double Eagle."  The album contains ten songs and is a limited edition of 750 vinyl records on the American Sound label.  There are two different versions of the record jackets, featuring two different band photos on the front cover.
Later in 1996, a second album was released called "White Lightning – The Lost Studio Album – 1969."  This album also contains ten songs and is also on the American Sound label, with a limited pressing of  750 vinyl records.
On May 10, 1997, the national Rock'n'Roll Hall of Fame in Cleveland, Ohio, opened an exhibition called "I Want to Take You Higher: The Psychedelic Era, 1965 – 1969."  In conjunction with the exhibition, Chronicle Books published a book with the same title.  The book includes a list of the 100 most important psychedelic songs, compiled by music historian and critic Jon Savage.  Number 44 on the list is "William" by White Lightning.
In 1997, a CD was released called "White Lightning Strikes Twice – 1968 – 1969."  The CD has 20 songs, 12 by the original trio and 8 by the 5-piece band.
In 2001, Zippy Caplan released a CD called "Heroes and Monsters" which includes the "William Tell Overture" recorded by Lightning in 1975.
In 2007, a CD was released called "Lightning" with 16 songs including the original 8 songs on the 1970 album and 8 bonus tracks.
Photos  
(Click a photo to see it full-screen, then click the arrows to see the next one.)
Recordings
Of  Paupers  and  Poets  –  Time = 1:08  A  Side  1st  45  Record
William  –  Time = 1:01  B  Side
Freedom  –  45  Record
Hideaway – 45 Record
William  Tell  Overture  –  Time = 2:40  Un – Released  Acetate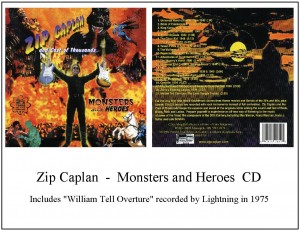 Bandtree
Where are they now?
Tom "Zippy" Caplan: Playing with the Litter and the Surf Dawgs. Living in Minnesota.
Woody Woodrich: Passed away at age 56 on March 7, 2005. He was living in Minnesota at the time of his passing.
Gar Johnson: Playing drums. Living in Minnesota.
Mickey Stanhope: Working in music. Living in Nevada.
Ronn Roberts: Working in music and films. Living in California.
Bernie Pershey: Playing drums. Living in California.
Interview
Interview PART ONE